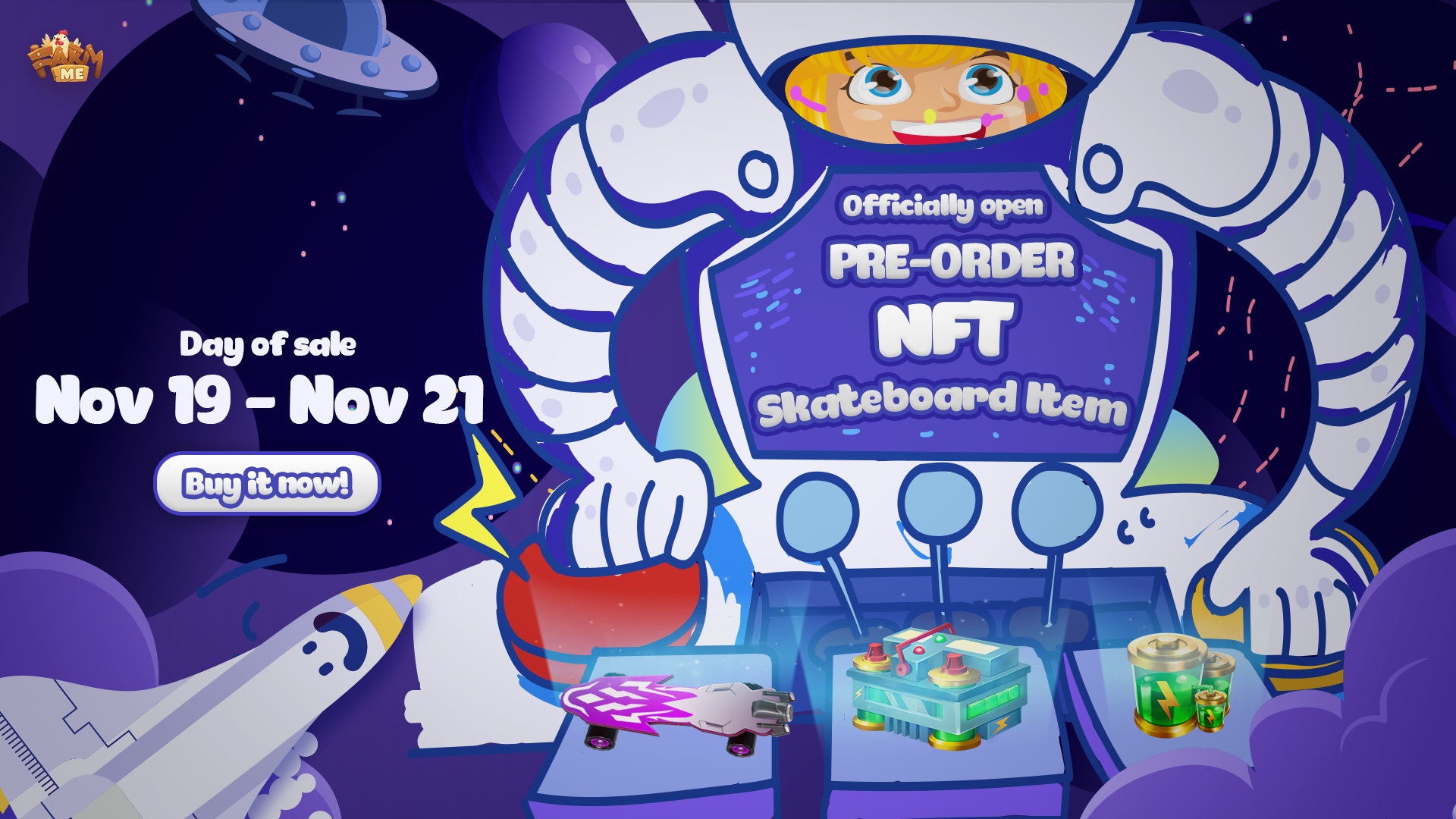 A new era at Amazing Race has released with many brand new changes in the latest update. Let's find out with Farm Me through the new features in Amazing Race to get ready for a new journey!
REQUIREMENT ITEMS:
• Skateboard
• Racing Card
1. REGISTER AND DISTRIBUTE THE STAGE OF TOURNAMENT
REGISTER
• Each race has a registration period from 00:00 to 20:00 each day (UTC+7)
• Players meet NPC CPO Tuan Le to register to participate in the Event.
• When registering, you need to deposit 1 Racing Card (which can be purchased on MarketPlace)
- This Racing Card will be returned to the player via the Mail system at the end of the Event if the player has participated in at least 1 race.
- To determine whether a player participates or not will be calculated according to whether the player uses 1 Racing Card to participate in any race.
DISTRIBUTE THE STAGE OF TOURNAMENT
• All registered players will be automatically divided into tables in chronological order of registration.
• Each table will have 20 people. When it's time to race, the table will appear so that Players can keep track of their table information (can see the table of other tables).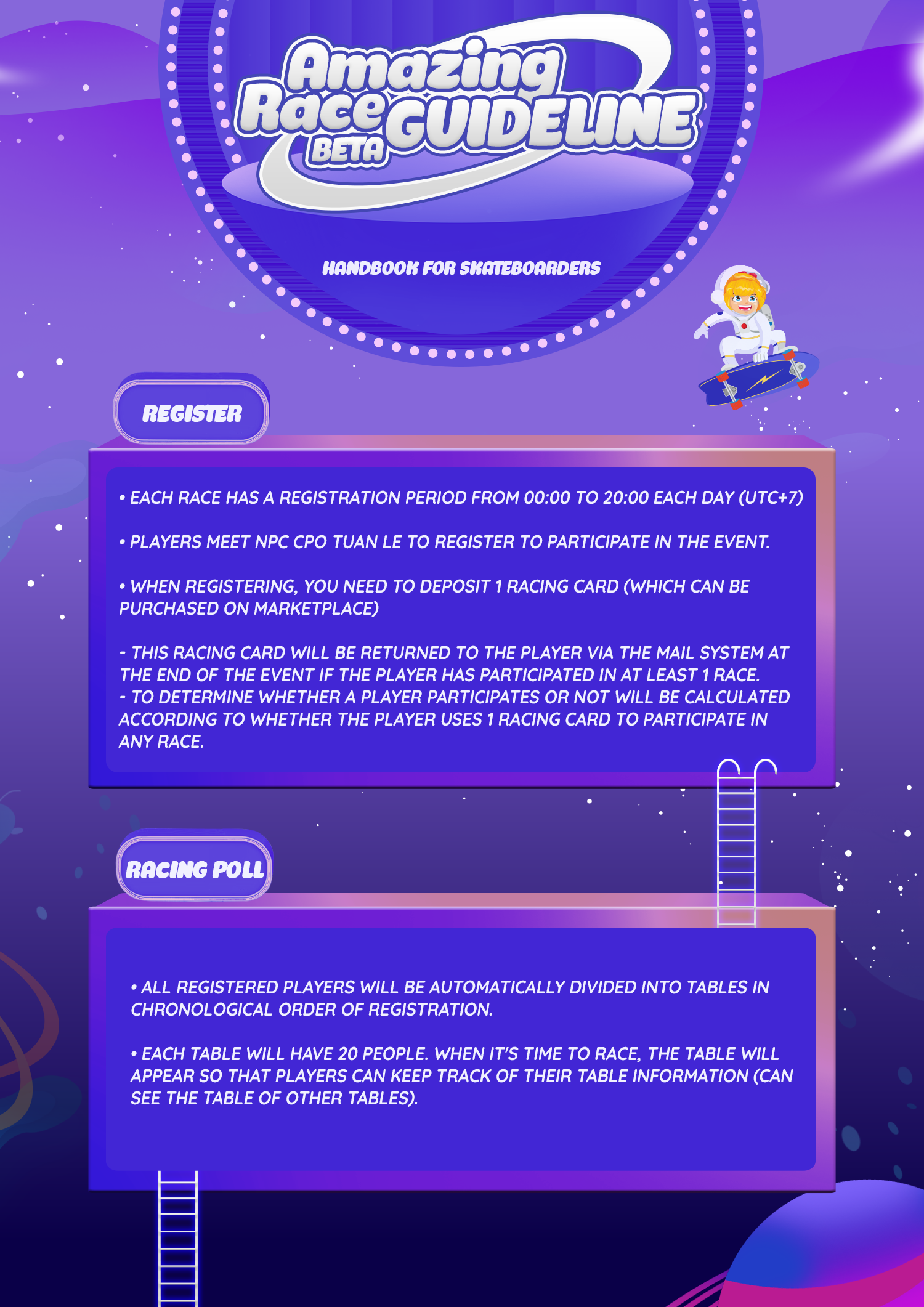 2. PARTICIPATION RULES
RACE TIME
• Race start time from 20:00 to 22:00 (UTC+7)
• Players meet NPC CPO Tuan Le to start participating in the race.
• Each race will cost 1 Racing Card (This Racing Card is non-refundable)
• After successful participation, the player will be transferred to the independent AMAZING RACE screen.
HOW TO CALCULATE THE POINTS
• At the end of the countdown, the player will move to the CHECKPOINTs as required and need to reach all the CHECKPOINTs on the map to complete the race.
• Each race will be calculated based on the time the player reaches the finish line. The shorter the time, the higher the achievement.
• Players can get Coin Me along the way. For each 1 Coin, this is equivalent to 1 Me. After the end of the race, this amount of ME will be paid to the player through the Mail system.
NOTE
• The starting point at each entry is random, but the race length will remain unchanged.
• During the race, the player can use the Battery in the backpack to restore the Vehicle's energy:
- Battery 25%: Restore 25% of Vehicle Energy
- Battery 50%: Restores 50% of Vehicle Energy
- Battery Full: Full Vehicle Energy Recovery.
• On the track will be arranged traps to block the player's way. Every time you collide with a trap, in addition to being sent to the nearest checkpoint and held, the vehicle the player is equipping will also lose several Energy points.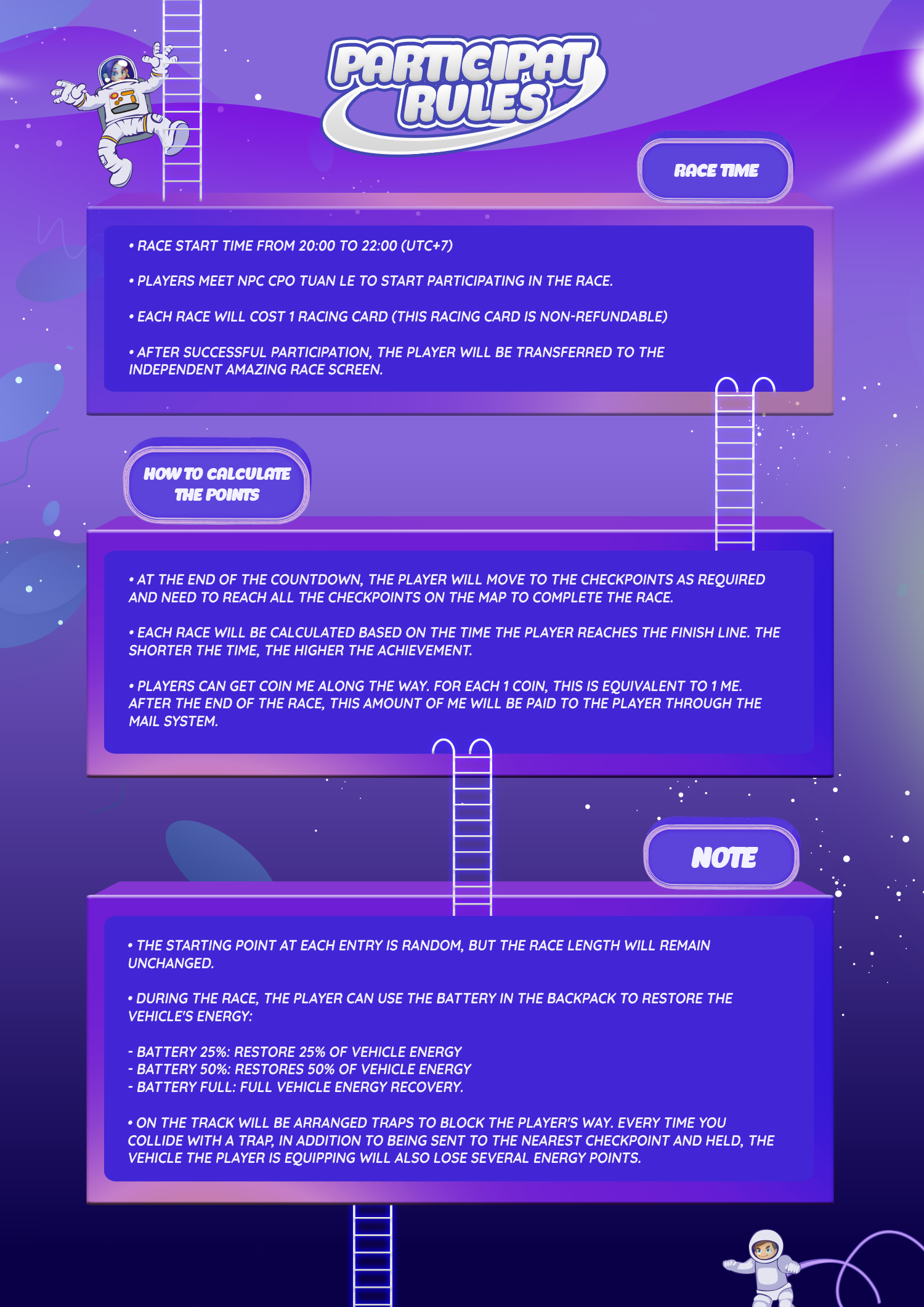 3. REWARDS
• Rewards will be returned to players at the end of the day
• There are 2 types of rewards:
- In-game rewards will be sent to players via the Mail system
- The reward is Fame will be sent directly to the player's Balance
• In case people have the same time, whoever registers first will be ranked first
*Rewarded Rule on Amazing Race Solo mode:
• More racing times more rewards
• Pool rewards calculated by:
- Fee & Burning Pools : 15% from total racing times
- Weekend Racing Event Pools : 10% from total racing times
- Daily Board : 75% from total racing times on each board
| | |
| --- | --- |
| Top | Rate |
| 1 | 28% |
| 2 | 17% |
| 3 | 11% |
| 4 | 9% |
| 5 | 7% |
| 6 | 5% |
| 7 | 5% |
| 8 | 4% |
| 9 | 2% |
| 10 | 2% |
| 11 | 2% |
| 12 | 2% |
| 13 | 2% |
| 14 | 2% |
| 15 | 2% |
| 16 | 0% |
| 17 | 0% |
| 18 | 0% |
| 19 | 0% |
| 20 | 0% |